The United Arab Emirates, one of the world's fastest growing tourist destinations, has all the right ingredients for an unforgettable holiday, sun, sand, sea, sports, unbeatable shopping, top-class hotels and restaurants, an intriguing traditional culture, and a safe and welcoming environment.
The UAE is classified as a high income developing economy by the IMF. The UAE's oil reserves are ranked the world's sixth largest and the UAE possesses one of the most-developed economies in West Asia.
The United Arab Emirates is a constitutional federation of seven emirates; Abu Dhabi, Dubai, Sharjah, Ajman, Umm Al-Qwain, Ras al-Khaimah and Fujairah. The federation was formally established on 2 December 1971
Economic Strength
It is the thirty-fifth largest economy at market exchange rates. UAE has a high per capita GDP, with a nominal per capita GDP of US$47,407 as per the IMF. Fifteenth in purchasing power per capita and has a relatively high Human Development Index for the Asian continent, ranking thirty seventh globally.
The UAE Population
In 2016, the UAE's population was estimated at 9,347,593, of which less than 20% are UAE nationals or Emiratis, while the majority of the population are expatriates.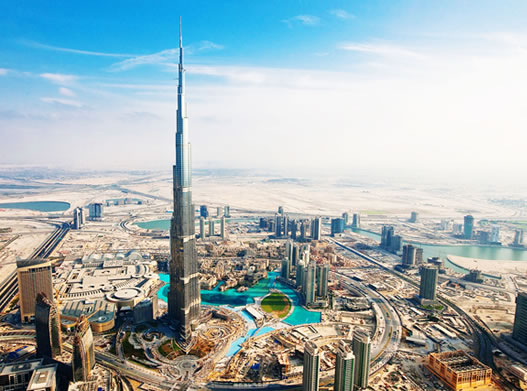 However by 2020, Emiratis are projected to form 10% of total population. There is growing presence of Asians, Europeans and people from more than 160 countries of the world making UAE a truly cosmopolitan country.
The UAE occupies an area of 83,600 sq km along the south-eastern tip of the Arabian Peninsula. Qatar lies to the west, Saudi Arabia to the south and west, and Oman to the north and east. The capital and the largest city of the federation, Abu Dhabi, is located in the emirate of the same name. Four-fifths of the UAE is desert, yet it is a country of contrasting landscapes, from awe-inspiring dunes to rich oases, precipitous rocky mountains to fertile plains.
Business Environment in the UAE
The UAE has a vibrant free economy, a significant proportion of its revenues arising from exports of oil and gas. Successful efforts have been made to diversify away from dependence on hydrocarbons and a solid industrial base has been created, together with a very strong services sector. The establishment of free zones has been an important feature of this diversification policy.
Secure and Stable
Since its establishment in 1971, the UAE has enjoyed an enviable degree of political stability, unequalled in the region. This has enabled the implementation of consistent sound economic policies and the reinforcing of the country's social structure to produce one of the most tolerant, prosperous, secure and safest societies in the world. Dubai and Abu Dubai have been ranked the top two cities in the Middle East region for quality of life. Long-time investors include a wide range of multinational companies headquartered across the globe.
Tax Efficient Business
Special economic zones and free zones offer 100 per cent ownership, repatriation of profit and capital as well as exemptions from taxes. Outside of these areas, significant incentives are being offered to investors and corporate governance provisions ensuring transparency and accountability are being enforced. Corporate taxes are reserved only for branches of foreign banks and oil-producing companies. A negligible 5 per cent tariff is imposed on goods imported from non-Gulf Cooperation Council countries, although tobacco and alcohol products are subject to 50 per cent customs duties.
Access to Growth Regions
The UAE's strategic location between Asia, Europe and Africa is a major advantage to investors, particularly the country's proximity to some of the world's fastest growing economies in Asia. Collectively India and China alone comprise almost 40 per cent of the world's total population and support a combined GDP in excess of US$5 trillion, providing significant economic and trading opportunities.
Intellectual Property Protection
Intellectual property, including patents and trademarks, is legally protected in the UAE and considerable efforts are being made to implement these laws. The country is also a member of international bodies, treaties and conventions that safeguard intellectual property, including the World Intellectual Property Organization (WIPO), World Trade Organization (WTO), Paris Convention, Patent Cooperation Treaty (PCT), WIPO Copyright Treaty, WIPO Performances and Phonograms Treaty (WPPT) and the Rome Convention.
Solid Infrastructure
Infrastructure in the UAE is second to none. Telecommunications, including mobile and fixed telephony as well as internet access is on par, if not better, than the world's largest international business hubs. The road network is constantly upgraded and ports and airports are of world-class standards. To date, the Government has invested heavily in infrastructure development, but it has also opened up its utilities and other infrastructure to greater private sector involvement, so much so that public-private partnerships are now the norm.
Multi-national Human Resources
Investors benefit from an abundant supply of human resource skills, courtesy of professionals migrating to the emirate from nearly every country in the globe, as well as the increasing number of UAE nationals that are joining the private sector.